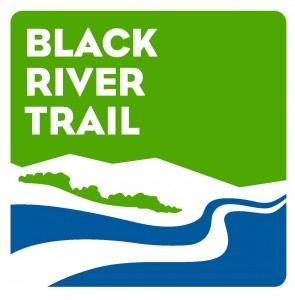 The Black River Trail Scenic Byway is a 94-mile travel and transportation corridor that begins in the City of Rome at the southern end and gently weaves travelers through quaint communities to the Village of Dexter and the Black River Bay on Lake Ontario. The Black River Valley corridor, nestled between the Tug Hill Plateau to the west and the Adirondacks to the east, invites travelers to enjoy the diverse geological, cultural, water-based industrial, working landscape, natural, and recreational history that can all be linked to the significant beauty and function of the Black River.
The Black River Scenic Byway is a series of lesser traveled highways from Rome to Dexter with a common thread that inspires users to recharge and recreate in and along the Black River, where the changing character of the River is as wonderfully diverse as its nearby communities.
Community Connections along the Black River Trail
Communities along the way between Rome and Dexter include: Westernville, Boonville, Forestport, Port Leyden, Lyons Falls, Glenfield, Lowville, Castorland, Carthage, Herrings, Deferiet, Great Bend, Felts Mills, Black River, Glen Park, Watertown and Brownville. A variety of bicycling opportunities – as well as suggestions on what to see and do – are highlighted in two segments along the Black River Trail, starting in the south.
Rome – Lowville, 48 miles
Lowville – Dexter, 46 miles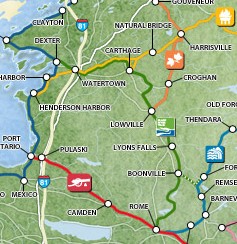 Around the Corner, Around the Bend
This history-rich byway follows canal relics and riverbanks in many stretches and offers four distinct thematic highlights:
Beginning in Rome, learn the local lore of days gone by when commerce and livelihoods depended upon river transportation. Take in the engineering marvel of the former Black River Canal system that was instrumental to the industrial growth of the 'North County' through its connection to the waters of the Erie Canal. Next, visit the Canal Museum in Boonville and view Canal artifacts along the way.
The Boonville to Lyon's Falls segment offers a wild and primitive waterway that whisks over rounded river rock into natural jetties before cascading downriver to gather in quiet fish filled pools.
Lyons Falls to Carthage sports pastoral landscapes and quaint nearby river communities along this clear and slowly moving pebble-sand bottomed stretch, welcoming all skill levels of kayaker, canoeists, and anglers.
From Carthage's faster moving river section on to Watertown's white and black water playground, "the Black" courses through the city's center pinched between gorges creating a kayaker's delight and river raft guides' thrill. The waterway's path is completed as it ultimately empties into the great Lake Ontario in Dexter at Black River Bay.
Without a doubt, these four distinctive personalities of 'The Black' and the Black River Scenic Byway correspond with the history of its industry and people, the diversity of its flora and fauna, and the vast array of recreational uses. Put these all together and they create an intoxicating mixture of interests and activities that can entice even the weariest traveler.